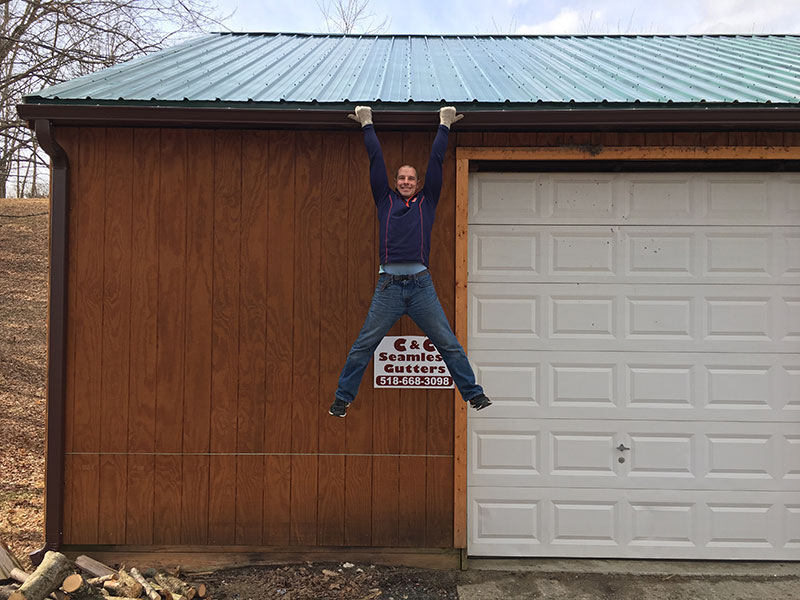 C&C Seamless Gutters are so strong our owner can hang on them 12 off the ground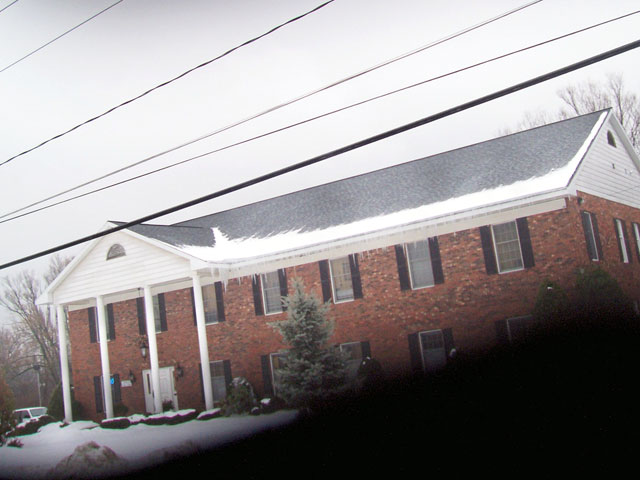 Gutters do not cause ice build up.
Warranty: We warranty our materials for 20 years and workmanship for 5 years and provide customers with the proper information for requesting material warrantees.



Gutter Finish:
We offer a 20-year limited finish warranty on all gutter material installed by authorized designers and installers in accordance with Englert specifications and maintenance instructions, with the understanding that it will not blister, flake, chip, crack, peel, split, rot, red rust or structurally deteriorate as a direct result of manufacturing defects.

Longevity: We have been in the gutter installation business for over 25 years.
Workmanship: The owner/installer meets with all customers for defining requirements and completes the installation work himself.
Insurance: We are fully insured and will provide the proper documentation with the name and telephone numbers of our insurance agent.
On-Time: We will show up on the day and at the time scheduled. If any unexpected disruption occurs to the schedule we will notify the customers as soon as possible.
Safety: We take safety very seriously for ourselves and our customers, and adhere to all safety standards for proper gutter installation.
Professionalism: We operate professionally at all times and treat the customer with the greatest of respect.
Post-job Review: All completed jobs will be reviewed with the customer to ensure customer satisfaction has been met.
Quality: All installations will meet or exceed manufacturers and installers specifications and best practices. Also, we will adhere to our own proprietary installation standards.
Communication: We return all telephones calls within 24 hours and we keep the customer informed of any schedule changes or if we encounter any questionable house situations that the customer should be aware of during the installation process.
Documentation: All the materials used - type, gauge, color and vendor are listed on the order copy for your future references.
Integrity: We stand behind all the work that we do and we will follow up with any issues you find with the installation.
Satisfaction: We will complete all installations to meet or exceed customer's specifications.
Referrals: Our business growth is primarily based on referrals and we want to add your name to our ever growing list.
Core Values that We Believe and Adhere To
We are firmly committed to these Core Values for operating our business and it serves as the foundation for "A Business that is Built on Recommendations."
Timeliness: We will return all phone calls as soon as possible or within 24 hours
Dependability: We pride ourselves in arriving on-time, or we notify you in advance of emergency/unexpected situations in order to respect your time.
Service: We will provide outstanding customer service and will try to meet all customer' expectation.
Cleanliness: At the completion of each project, we will perform a final cleanup and will leave the site as it was or better than original condition.
Quality: We will adhere to all manufacturing standards and specifications and to our own strict standards of installation.
Respect: We will treat each customer with the utmost respect and common courtesy.
Honesty: We value each relationship and we will be honest in our communication with our customers and associates.
Pride: We pride ourselves in providing the highest quality workmanship from beginning to end and we back up each project with a warranty that if you do have a problem, call us and we resolve it to your satisfaction.
Safety: We will adhere to strict safety regulations and standards for the protection of our customers and our employees.