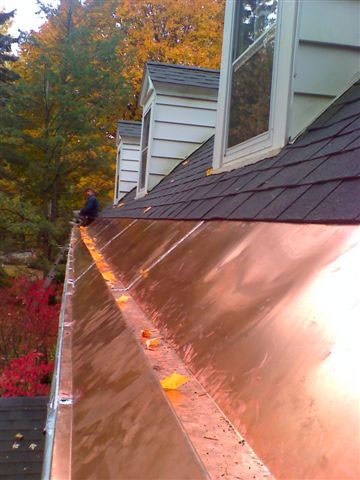 Copper Gutter Portfolio
C&C Seamless Gutters, a business that has been built from client referrals, known for its quality, integrity and honestly in designing and installing aluminum and copper gutter systems for over 25 years has EXPANDED Its SERVICE to meet the needs of clients that inquire about designing, installation and craftsmanship for copper and aluminum gutters.
C&C Seamless Gutters provides a tailored solution to your copper and aluminum gutter needs, offering a true understanding of copper material and craftsmanship.
C&C Seamless Gutters serves the entire Capital District up to Lake Placid / Saranac Lake.
Services Offered
Experienced in tailoring architectural designs
Offering superior craftsmanship
Fully insured
Material and workmanship warranties
K Style
Half Round
Advantages
Copper miters are soldered, NOT SILICONE OR TARED
Does not need to be replaced during a homeowner's lifetime
Adds value to the home
Decorative accessories are all copper
C&C Seamless Gutters takes pride in the installing all custom copper installations from small residential homes to large custom homes. All of our installations are done by the owners themselves, they will come out to your job site and offer you friendly, knowledgeable solutions to your gutter design with a no hassle written estimate explaining all warranties, and insurance coverage.
Contact C&C Seamless Gutters, the professional expert for all your gutter needs, and be one of the hundreds of satisfied clients that make our businesses built on recommendations!!
Copper is what you desire, you will get superior craftsmanship from C&C Seamless Gutters
"Your home is my home"
C&C Seamless Gutters - A business built on recommendations